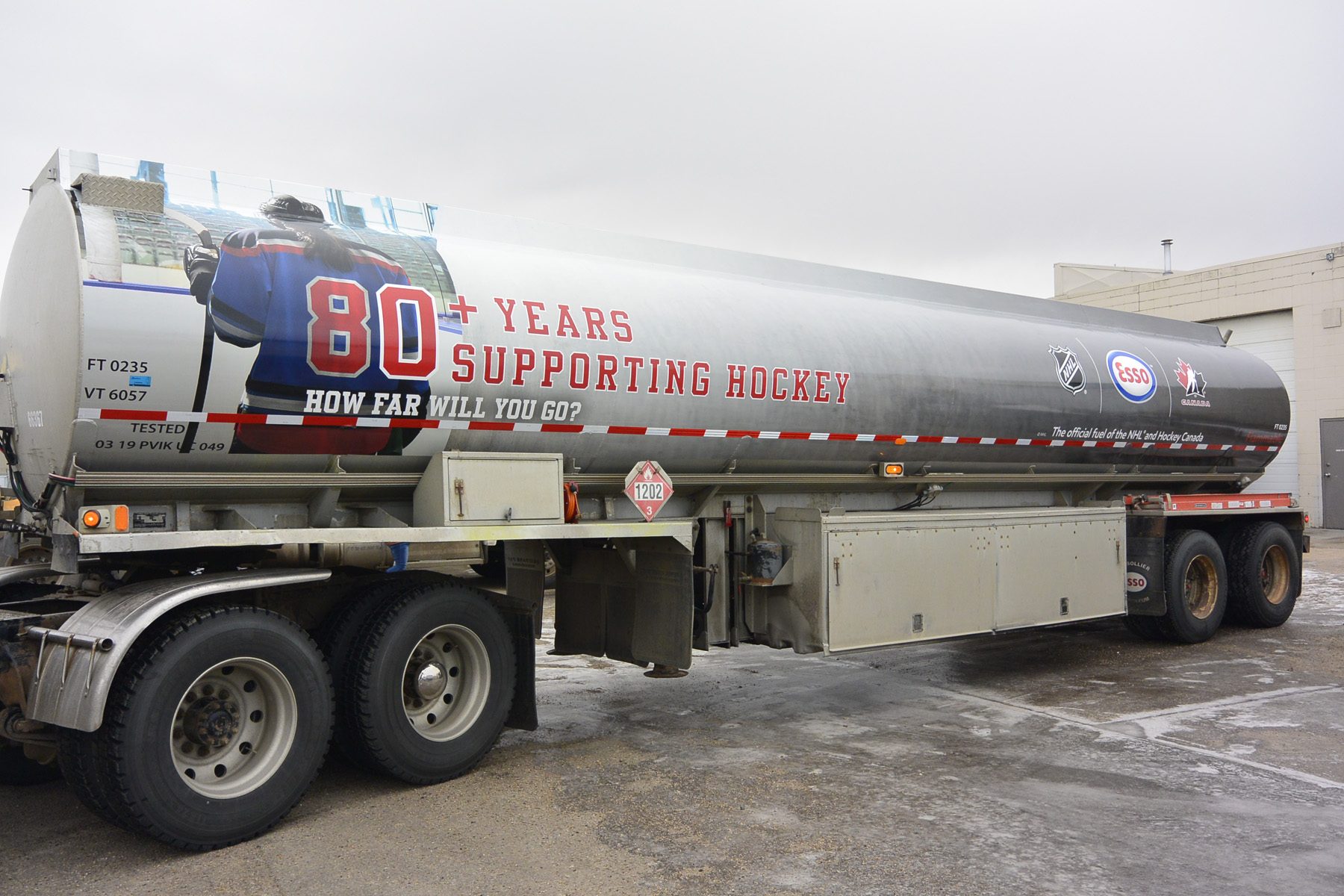 Fleet Branding and Graphics
Petro Canada, Esso, Dewalt, and The Weather Network
It's important that our materials stand the test of time when applied on massive tankers and fleet vehicles that are constantly on the road. In addition to quality products that last, it's absolutely paramount that our designs are installed with seamless precision that maintains a cohesive look across all branded fleet vehicles.
Petro Canada
Petro Canada required a brand refresh across several of their tankers. This meant our design and installation needed to be consistent with their original branding, so older and newer vehicles maintained a similar look. We designed and installed our graphics using colour-matching technology to ensure key brand elements were captured, and as a 3M gold-certified print provider, we were able to ensure the longevity of our installations.
Esso
We had the opportunity to work with Esso on two projects including creating custom graphics to promote Esso's new diesel efficient products and to promote their NHL partnership in support of hockey in Canada. Our products were installed using gas-rated film that doesn't fade or become sticky if in contact with petroleum.
Throughout each project, we ensured key branding elements were captured through our colour-matching technology, as well as helping create eye-catching graphics that enticed customers to engage with their promotions. As a 3M gold-certified provider, we ensure our products look great, can stand the test of time through harsh weather conditions, and are installed in a manner that avoids imperfections and bubbling over time.
Dewalt
Our team designed and installed vinyl tailgate graphics for over 10 Dewalt F150 fleet vehicles. Their trucks required new rear graphics to promote their new FlexVolt product line with inspiring colours and imagery that appeared to pop out through the back of their trucks. Our 3M certified installers were able to adhere custom vinyl graphics to the back of each vehicle on-time with expert care.
The Weather Network
The Weather Network afforded our team with a fascinating opportunity to develop and install custom graphics for over 4 of their storm chasing fleet vehicles. Due to their constant use and predisposition to quite literally be in the eye of any storm, we installed our 3M quality products to ensure versatile flexibility that would not lift or peel, regardless of strong winds or heavy rain conditions. In addition, it was important that their graphics were vibrant and easily visible to community members to further expand their reach as the reporting station that goes the distance in weather forecasting.