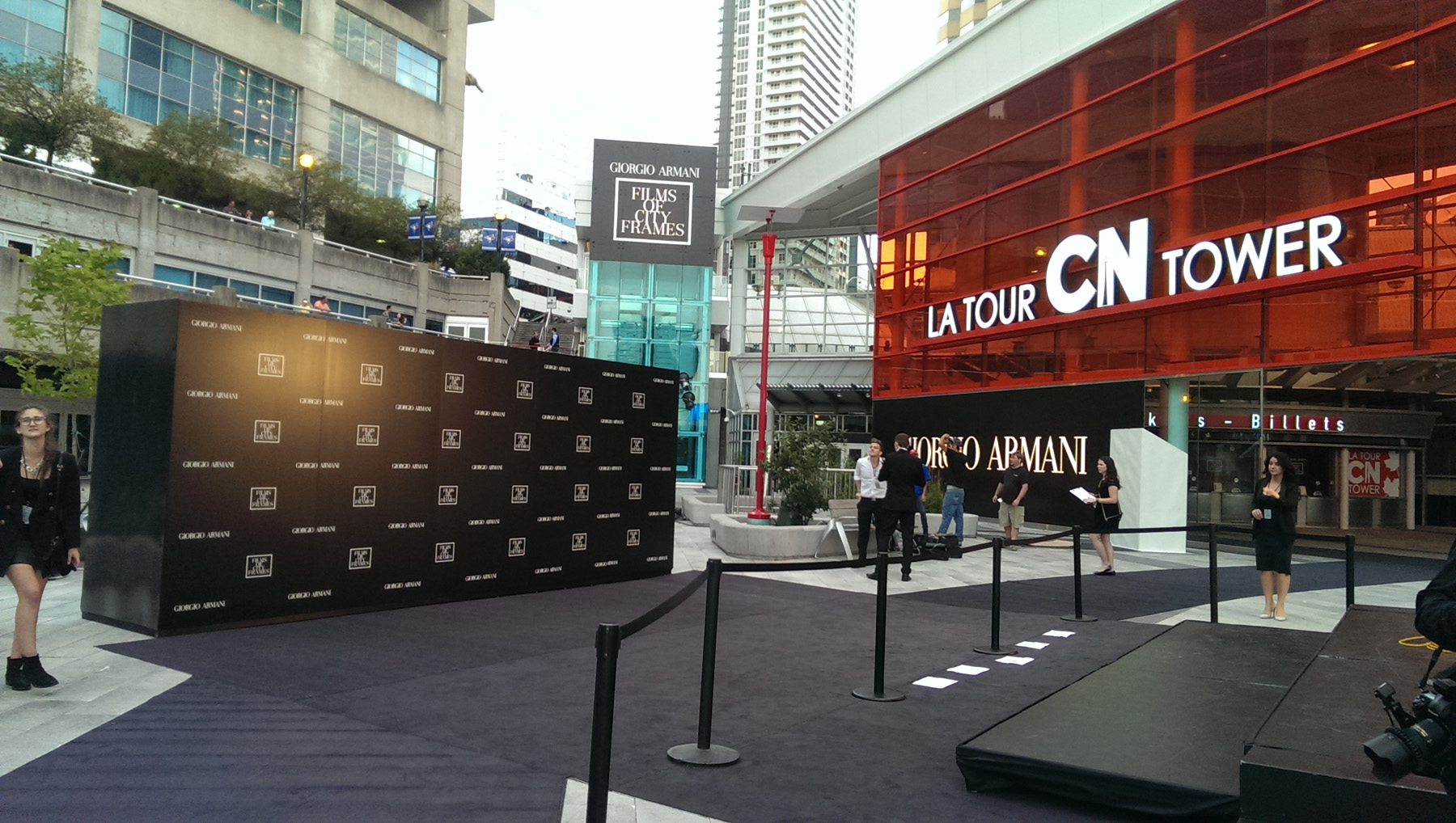 Giorgio Armani TIFF Event Signage
In 2014, Giorgio Armani hosted their Films of City Frames event at the CN Tower during TIFF. This monumental event was unlike any other they had held in Toronto, and required sleek graphics and seamless installation for two events per day throughout the festival run. This left no margins for error and a very tight deadline to achieve larger-than-life custom interior and exterior graphic design, fabrication, installation, and removal.
Exterior Signage
The exterior elements designed and installed for Giorgio Armani included large-scale static and digital graphics. In addition to 11H x 40L and 18H x 70L window graphics, various directional signage, and a multitude of display graphics, our team created and installed an 8H x 20L free-standing step-and-repeat media wall and 18H x18L elevator graphics over 60 feet in the air.
Our custom step-and-repeat wall was designed and created at our facility and then built on-site at the CN Tower. Some challenges included ensuring our graphics were securely installed and made with durable materials to withstand high winds that flowed down from the tower to the base where the step-and-repeat was installed.
Interior Signage
Once guests were within the event space, it was important that all graphics were on-brand and awe-inspiring for a truly immersive feeling. We designed a series of interior signs for the event with high-quality graphics including directional signs, interior step-and-repeat media wall, decor graphics, and wall murals. Our custom-made 12H x 20L wall mural was installed in the main hallway leading to the elevator within the CN Tower and was completely styled with the Giorgio Armani logo in a sleek finish for eye-catching drama.
This design-focused and unique project allowed our team to showcase what we can do with an expansive array of materials and installation capabilities in a limited window of time. But where we really hit the mark, was in our installation and sign removal before and after the Giorgio Armani event run. With weather conditions working against us and the potential for equipment failures being a possibility, our team was able to come through with custom-designed graphics that were installed on-time without losing that sense of magic for guest arrival. And, once events were at their end, our team removed all graphics and mounts with no extra downtime required and with zero damage to the original space.